---
Organizations that have implemented Agile and Scrum practices have seen significant reductions in cost, time-to-market and risk as well as substantial gains in quality, customer satisfaction and team collaboration. As a result, the demand for skilled IT professionals who understand how to adopt, apply and scale Agile practices is on the rise. This new Agile Scrum Essentials (ASE) course provides the fundamental principles and concepts of both Agile and Scrum.
This Essentials level course is the first in the new Agile Scrum certification program offered by Professional Designations. It is a mandatory requirement for all other levels within the certification scheme.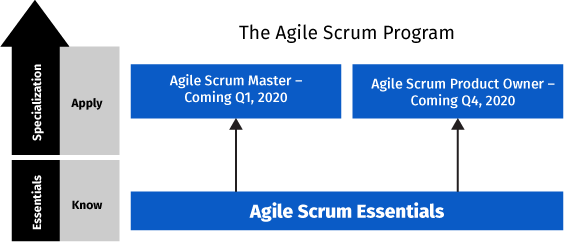 After acquiring Agile Scrum Essentials, you can gain a deeper, more practical level of knowledge about Agile Scrum by taking other courses that will be offered by Professional Designations in Q1, 2020 (Agile Scrum Master) and Q4, 2020 (Agile Scrum Product Owner).
Anyone with a need to understand how to achieve and maintain a highly effective approach to project management
The Agile Scrum Essentials certification will provide you with the fundamental knowledge and skills required to apply concepts and practices to projects.
Take a course from a training partner registered with Professional Designations and then order the exam voucher from your training partner.
Duration: 60 minutes
Questions: 40 multiple-choice questions; closed book
Pass Mark: 65% (26 questions correct out of 40 questions)
Supervised: Yes
Format: Online